Back to all blogs
New web-based sales tools enable independent Altnet providers to match national providers sales capability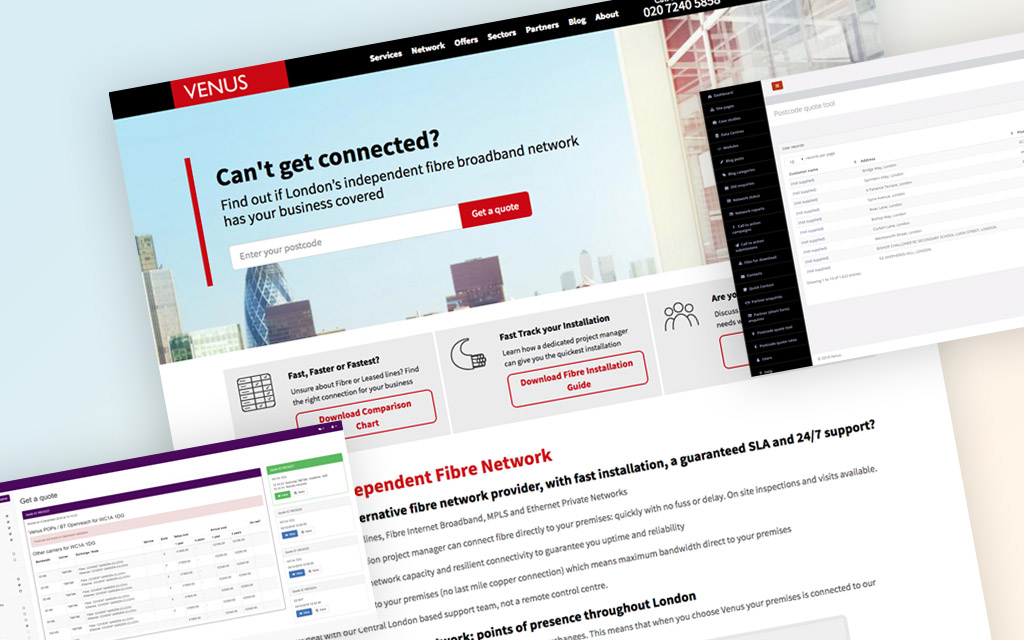 Many smaller Altnet providers still don't have access to the range of online sales and marketing tools to help them to fully compete with larger providers and secure the sales to grow their own network – until now.
Our suite of web tools was developed with leading London independent fibre network provider Venus Business communications. Prior to their acquisition by M24seven, and includes the full set of software to help emerging Altnet providers to boost their sales and compete with larger network providers.
We are pleased to announce that our exclusivity period with Venus has ended. We are now able to supply our suite of online sales and marketing tools to emerging Altnet providers in the UK.
Our web tools include our Postcode Checker Tool, Multi-Network Fibre Quote Tool, Reseller Portal and Reseller API. All of these tools can be integrated with your current in-house technology and can be customised to suit your requirements.
Our web tools for Altnets

Postcode Checker Tool
Integrates to your website

Allows customers to submit their postcode and instantly find out if FTTP is available to their address

Excellent lead generation tool for your sales team

Generates customers query to your CRM for your sales team to follow up

GDPR compliant

Multi-Network Fibre QuoteTool
Provide your customers with real-time FTTP availability and cost quotes based on their postcode

Gives real-price information on the bandwidth, exchange node, carrier, zone, set up cost and annual cost

Connects to APIs of other carriers in your area to generate information on competitor pricing and bandwidth, allowing you to provide the most competitive quote.

Has its own CMS database to load your own pricing, bandwidth, and other information.
Reseller Portal
Integrates with your in-house CRM and lets you manage Partner's account queries, support requests

Lets your partners request a quote to resell for a particular postcode

Gives you information on fibre availability, bandwidth and cost to service any part of the UK

Manage all of your partner's quotes directly in your CRM database

The only partner management tool you need!

Reseller API Tool
For resellers looking to develop their own quoting tool.

Adds on to Partner Portal and lets resellers register and access API requests for fibre pricing based on a particular postcode.

Connects to your API and lets resellers provide an accurate quote for cost, broadband availability and bandwidth based on an individual postcode.